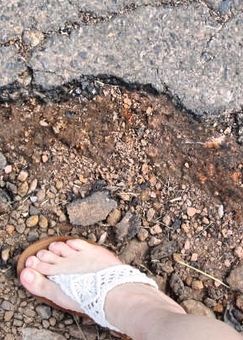 When my grandson Adrien was riding in the car with us our first day in South Africa, he asked: "How can you tell if someone is driving drunk in the US?" We responded confidently that they wove all over the road. Then he asked "How can you tell if someone is driving drunk in South Africa?" No idea. "They drive in a straight line!" LOL.

Having lived here for a year, I get the joke. There are so many potholes in eMalahleni that you don't dare drive in a straight line! These are not your garden variety potholes, mind you. People will drive anywhere to avoid them -- up on people's lawns, for instance – and regularly on the wrong side of the road! But some of the potholes stretch across the entire road, which makes them impossible to miss. Some are so deep that if you drive through them in a Toyota Corolla, the bottom of your car scrapes against the road. (Don't ask how I know that)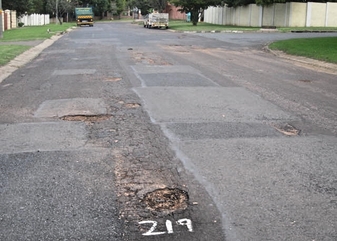 It seems that the local municipality had a corrupt administrator for several years and he didn't care about maintaining the town. Shortly after we got here, the government of South Africa replaced the bad guy with a good guy who is determined to bring things back up to snuff. He has a lot of obstacles, not the least of which is the fiscal budget. Shortly after Theo van Vuuren came into office as interim administrator, someone came around and numbered the potholes, which gave rise to a great hope that they would be repaired. I believe number 257 was on Betsie Street, just outside the gate of our community.

And sure enough, some potholes were filled. However, during the rainy season, many repairs were washed away and new potholes were created. And as people drive around them, the edges crumble more and the holes get bigger. And the bigger holes hold more rain, and the overflow from the rain washes more dirt out from under the asphalt, which means when cars drive on that, it crumbles more….Eish!

There is an enterprising group of people who go to the busiest intersections, fill these gaping holes with rocks, broken bricks, sticks and so on, then sweep the dirt back in to keep them close to level with the road. They or one of their friends stand with a tin can, collecting donations from grateful drivers.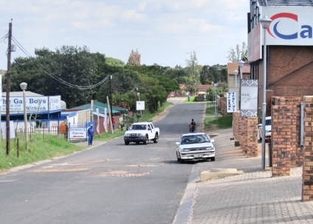 They may soon need to find other employment, however, because it was reported in the newspaper that "A local hardware store, Timbercity/Pennypinchers Witbank, is selling cold asphalt at cost and encouraging the community, businesses and schools to help with the pothole epidemic that is escalating in our city. They have purchased 500 bags and are selling them at R55 (US $5.50) per 25kg (55 lbs) bag."

In my humble opinion, the best option would be to simply rebuild the streets, one at a time, but I know that's not even a vague possibility with the budget the municipality is forced to work within. I guess I'll just keep watching to see how many people make the repairs themselves. And more importantly, keep watching for potholes so my car and I don't disappear into one!