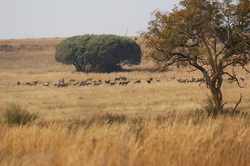 The animals are free to roam
I'm so glad South African conservationists think far ahead of their time. The government, recognizing that tourism can be used to generate funds for conservation, works hard and spends a lot of money to ensure that this incredible country and its flora, fauna and wildlife remain available for everyone's enjoyment. The South African National Parks (
www.sanparks.org
) manages 19 or 20 parks, depending on which guidebook or website you're reading.
More than three percent of the land in South Africa is occupied by national parks, nature reserves and game reserves. The most famous, Kruger National Park, is also the oldest, having been established in 1898. We're going to tour Kruger, which is in our province of Mpumalanga, but there are plenty of close reserves worthy of a visit.
One is Rietvlei (Reed Marsh) Nature Reserve, established around the Rietvlei Dam, which provides 15% of the water for Tshwane (Pretoria). When they acquired the dam in 1929, the City Council of Pretoria didn't open the property to the public, but still had the foresight to bring animals in.
We drove about an hour to get there, all dual highway until the last 5 minutes. There's a nice bathroom, educational center and office where you pay your R40 ($4.50) per person to go in. They give you a plastic card with a number on it, so I'm assuming that's how they keep track of how many cars go in and come out.

There are blacktop roads and dirt roads, encompassing huge fields of grass with the occasional tree sticking up. The animals are free to move wherever they like, and you can see paths they've created. There's no walking allowed except in designated areas, and even there you have to watch your step. Some of the piles these animals drop are pretty big! There are four bird blinds and at least one panoramic platform where you can stop and sit to see what you can see. There's a beautiful braai area with restrooms and braais and picnic tables. There's a restaurant that also has a picnic area. They offer guided hikes, guided horseback rides, guided tours of the lion reserve.

We haven't done it yet, but our neighbor recommended taking the horseback rides. She said the wild animals don't recognize you as separate from the horse, and they don't mind the horses, so you get some up-close and personal encounters.



When we got online to plan our day, my eyes glazed over from all the information. But it's important to know what you're getting into: First & foremost, do they have bathrooms? Is there a restaurant or are there picnic grounds? Can you drive a regular car or do you need a 4x4 vehicle? Rietvlei seemed like the perfect place to dip our toes into adventure, and indeed it was.


Four of the Big Five can be seen on the reserve, namely: rhino, lion, buffalo, and leopard/cheetah. The term "Big Five" originated as a hunting term for the five deadliest animals to encounter on a walking safari back in the early 20th century, when Hemingway and Roosevelt were among the big game hunters. Now the Big Five are icons for South Africa.

We took the guided tour to see and hear about the lions. They have an adult male and two adult females who came from a zoo that didn't have the ability to care for them any longer. In a separate enclosure, they have a young male and two young females who came from an attraction here that allows people to handle and feed the cubs. Once that happens, they can't be released into the wild. Not only do they not know how to catch their meals, they associate people with food and that makes them too dangerous to be loose on a reserve. The males have had vasectomies because they're related to the females. They don't castrate them because, among other things, they need their hormones to grow their manes. To train the lions not to jump on the tour bakkies (trucks), the rangers would ride in the bakkie with water guns and squirt water in the lions' faces when they came near. The lions don't jump on the trucks any more, but they sure don't like them!

We saw white rhino, too. Poaching is such a terrible scourge on the rhinos here, black and white. People kill the animal simply for its horns. They're trying all kinds of ways to bring the number of kills down: they prosecute poachers with a vengeance, there have been great conferences to educate and try to get the countries where people buy rhino horn to make the purchase illegal. They even cut the horns off at the reserves, so people have no reason to kill them. Neither the number of rhino, black and white, nor their location, is made public in an effort to prevent poaching.

270 species of bird have been identified on the reserve (I recognized the ostrich right away!). There are over 1600 head of game, including blesbuck, black wildebeest, red hartebeest, eland, Burchell's zebra, waterbuck, reedbuck, springbuck, mountain reedbuck, steenbuck and grey duiker. All those "bucks" are antelope or deer, and my untrained eye can't tell the difference. I think it's mostly the size and shape of their horns that distinguish one from the other. We saw huge herds slowly moving across the veld (field), and there were usually zebras with them. I expect that I'll have a better understanding of what's what by the time we leave.

Steven is the one who always sees animals in the wild first. "Look for what doesn't belong," he always tells me. We drove quite slowly and used binoculars to find animals. Then we used the zoom lens on the camera to get the pictures. We took hundreds, and were only really impressed with a few. I opened a picture folder on my laptop that is reserved for five star pictures only! There's only a couple in there now. The good news is, we'll have lots of opportunities for photos. I trust that we'll get better and better pictures.

Rest assured, I'll share them with you!