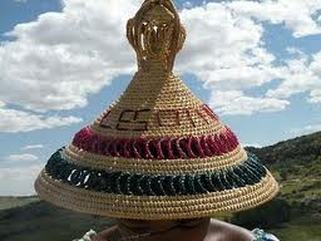 mokorotlo
So, I think I'm ready for my mission trip to Lesotho. Lesotho is a kingdom on a mountaintop that is surrounded by South Africa. It's about the size of Maryland. The Basotho people, who live there, speak Sesotho. They are known for their horsemanship, maybe because the roads are too poor for much vehicular travel. They are also known for their hats, called mokorotlo. This hat is on their flag and there are even buildings in that shape.

The mission team has been preparing all week. Monday we met each other. There are twelve of us going from our church. At 54, I share the honor of being the oldest member with Daphney. Then there's Jean-Marc, who's 40, and everyone else is 30 or under!

We're going to hook up with One Heart Mission in Howick, KwaZulu-Natal (province in South Africa) to witness to the people in Lesotho. The people of our church, New Life Church, have been making donations of food, clothing and blankets for a month. Steven is going to help load the trailer this afternoon. Ryan, one of the pastors and our leader on this trip, told us we could bring as much luggage as we needed, but to remember that whatever space our luggage takes is that much less space for donations (excellent use of guilt to manipulate!)

We're leaving at 5 this afternoon in two private vehicles. We'll eat dinner in the car to get to our host's house in Howick by 11 tonight. Tomorrow morning at 5 we'll be up and into 4x4 vehicles to go up into Lesotho. We'll be crossing the border at Sani Pass, which ascends to a height of 2874 m (9429 ft) over 20 km (13 miles). Google Maps says Sani Pass is 2.5 hours from Howick, but people on the team laughed and said we'll be grateful to cross the border by 3 pm if we leave at 5 am! Apparently, the roads are really, really bad.

Our command central will be a Mission House which we'll be sharing with the One Heart team. We'll have meals there, but we'll be travelling to remote villages to present two dramas that witness to God's love for all people. Because we don't speak Sesotho and they don't speak English, we're doing dramas without speaking. In one drama, I play an old ouma (grandma) who dies and breaks her grandchildren's hearts until they realize we'll live again together in eternity. The good news is, I get to lie on the floor with my eyes closed while all the other scenarios are being played out! In the other drama, I hold the signs with words in both Sesotho and English. I think I got the easiest parts in both.

There's snow on the ground up there, and the temps drop below freezing every night. Ryan said last year the team got dressed on Fri and got undressed on Mon! I've got my long underwear packed, along with the heavy winter coat I really didn't think I'd need when I bought it in February before we came. We bought a warm sleeping bag with a cowl (the thing that pulls up tight around your face). I also have a self-inflating mat and pillow. Steven's backpack is jammed with more than I'll ever need, I'm sure.

We know there's no electricity up there, and that there's a longdrop (outhouse). We may have water if the pipes haven't frozen. The food will not be fancy.

Because we're not tourists, I may not be able to take as many pictures as I'd hope, but surely I'll get a few.

I covet your prayers over this weekend. In addition to people accepting Jesus as their Lord and Savior, we'd also ask for traveling mercies and for God to do great miracles that can't be attributed to anything but God!