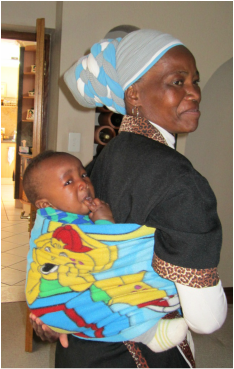 Evelina & Tando
When I first arrived in South Africa and I saw a black woman with a blanket wrapped around her waist covering her legs, I thought she was cold. Now I think there must be a baby around and start looking for the little darling.

Women of all ages carry babies of all ages on their back here, using a blanket to secure them. I've seen it at the mall, at the crèche (nursery), at the soup kitchen, in Lesotho when I was on the mission trip, on the side of the highway as the mother waits for a ride, and sadly, even on the beggar at the corner of Mandela and Bethal.

The police have arrested the beggar several times for child endangerment, but apparently for her the risk is worth the amount of money she collects. In the Witbank News there have been articles about her, and the police have even asked people to stop giving her money, but a seemingly poor woman with a baby on her back is hard to ignore.

The babies appear to enjoy the ride, and when they begin to fuss the women shake their torsos up and down to quiet them. The little heads swivel all around so they can take in the world. And they see the same world as their mothers. They're there as the dishes get washed and the vacuum gets run; as the food is cooked and served; as the groceries and other necessities are purchased; they're there as their mama chats with her friends. They see and hear and smell everything – they don't need Fisher-Price toys to keep them stimulated! It's certainly better than lying in a playpen for hours each day.

There are obvious benefits for the mothers, too. They have two hands free, they know where and how the baby is (no monitor needed!), they experience physical as well as emotional bonding, and they always have someone to talk to!

I've always been curious (and a little concerned) as to how the women were assured the blankets wouldn't come off and the baby fall out. One lady told me they start practicing with dolls when they're 10 years old, and start carrying their siblings and cousins soon after that. My friend and domestic worker, Evelina, brought her beautiful 9 month old grandson Tando to our house last week and I saw how she loaded him up. It was quite a relief to me to see that she used a large pin to keep the top of the blanket secure. Otherwise, she did it pretty much the way it's shown in this video I found on youtube.


Evelina had the blanket tied around her waist, hanging down toward her feet. Then she bent forward at the waist, put Tando on her back, and kept her hand on him as she raised the blanket up over him. At 9 months, he's been through this enough times to know to grab ahold of her shirt and lean into her quietly. She secured the blanket around her chest, then she pulled his feet around her waist and I could see them sticking out of the blanket. He laid his head on her back and went with her through her day as she did her work.
Evelina put Tando in many different positions throughout the day: sitting up in a nest of pillows, lying on his belly, and he took his nap lying down, but I've seen little babies sleeping on their Mama's backs. These women must have strong backs! There is some concern regarding health issues if the child spends the majority of time being carried this way. Depending on how large the woman is, the child's hips and legs are always spread wide. Because the baby rests his head on the woman's back rather than holding it up, his neck muscles may not get strong early on. And because the child is always facing left or right, rather than straight on, some people fear peripheral vision is sacrificed.

I had the opportunity to chat this morning with a doctor from Nigeria who carried both her daughters on her back. She listened to the above list of concerns and shook her head through the whole litany. "No," she said, "keeping your baby close has no harmful effects; unless the cloth comes apart and the baby falls." Myself, I believe the doctor. Surely if these issues were widespread enough, babies wouldn't still be carried the way they have been for generations.

That's how their little worlds get expanded!

When my grandson Eli would get too agitated, my daughter Sarah would ask her friend & domestic worker Sarah to carry him on her back. It calmed him down.