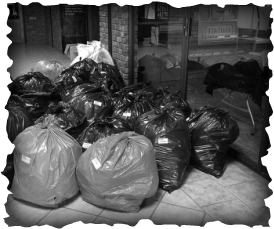 Most of these are labelled "Womens"
Before we left Witbank for our mission trip to Swaziland, I helped sort out the clothes that had been donated. As you might expect, I had to discard some items. Some peoples' first thought might be to cluck their tongues and say "If this is too disgusting for you to wear, why do you offer it to others?" But I'm a little more understanding – I get clothes are some of our "things," things that remind us of where or why we got it or who we got it from. I believe people don't really see how ratty something is if it's special to them. Maybe the only way they are able to give it up is the knowledge that someone else will benefit. Some people even donated underwear! It was nice stuff, though, so we put it in a bag to hand discreetly to the women of the church to distribute as necessary.

Just as a sidenote, only men's woven boxers have a fly here in South Africa. The knit ones look like little boy training pants, without the super heroes.

We just separated the clothes by women, men, boys, girls, babies. There were also bags of shoes, accessories, linens and curtains. We had one bag each for the babies and the boys. Girls and men had two bags. Women had 153,567. Just kidding! But women's clothing definitely topped the charts. I puzzled over that ratio the whole weekend, and our leader Nicole offered the most plausible reason. She said men & boys wear the same thing over and over without thinking twice, so they not only have fewer clothes to donate, when it's bad enough not to wear, it's too bad to give someone else. Babies soil their clothes or the good ones get passed on to friends and family. Girls have favorite outfits that they wear until they can't be worn again.

Speaking from experience, women like clothes. We shop sales for recreation. And we change lifestyles – we trade our jeans for business suits or vice versa. And we change sizes. Here's hoping the lady who donated the 3X clothing lost weight!

We loaded all the clothes we received into the two trailers we were hauling. Once we got to Pongola KZN, we transferred all the clothes to the One Heart trailer. When we got to camp, we divided them so we had a little something for everyone at each of the two churches we were visiting.

My husband Steven helped distribute sweets to the kids. It was one of those miracles you read in the Bible -- no matter how much we handed out, it seemed we still had the same amount when we left, so we left it with the churches.

We ran out of boy's clothing too quickly. We were so grateful to a woman in Connecticut who knits beanies and sends them to One Heart, because when we ran out of shorts, pants and shirts, we could offer them a colorful hat that made them smile.

The lines of people seemed never to grow shorter – people kept coming. There was one young boy who enjoyed being in line to get the sweets that were handed out, and to sing the songs, but the closer he got to the door, the louder he cried because he didn't want to go in. Turns out the health department also comes to the church to meet the community's needs and he remembered getting an injection there!

I hope his new memories of what happens at church have him eager to get to the front of the line next time.


Distribution was done inside the church buildings. People had advance knowledge that we were coming, so they were waiting when we pulled up. Pastor Themba had the children line up according to their age, then he told them the orphans got to come in first for their one article of clothing.

We brought all the bags we had, opened them and laid them out on the floor: ladies got one half of the space, and the other half was divided into quarters. Team members got familiar with what was available with a general idea of sizes, then as each child came in, the team member chose ONE suitable article of clothing and put it on the child before sending them on their way. The kids were generally compliant, not complaining if they were given something a little too big. Some of them shook their heads "no" if the clothes were too small, though.

There were a couple ladies who were quite verbal about their desire to choose their own clothing, but as a rule people were grateful for what they were offered. If they were wearing skirts, we tried to find them another skirt; pants, the same. If they were wearing short sleeves, we tried to find them long sleeves or vice versa. There were some dressy dresses and two piece suits, and some rather large sizes that no one who came that day wanted, so we left them at the church for the leaders to distribute. Surely there are women who sew and will alter what they can use.


I was sure pleased that my grandson Adrien had found a few items he could share -- the little boy in the plaid shorts was pleased, too. He was really pleased when I showed him the magic of the adjustable elastic waist.