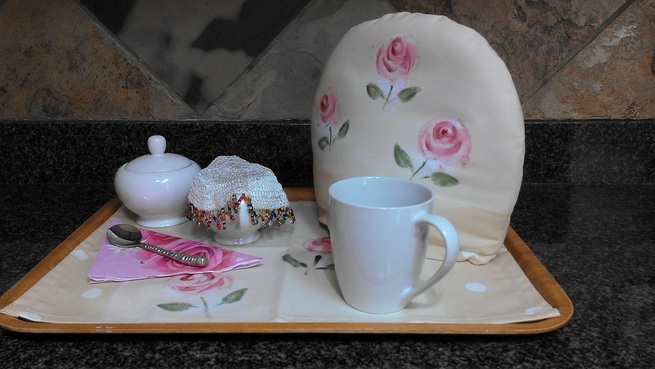 Handpainted tea cozy, tray cloth, crocheted doily with beads to cover creamer (to keep the bugs out), and lovely pewter sugar spoon
The Irene Village Market in Centurion, Gauteng is a wonderfully fun place to shop. It's a grand craft fair with African artists selling their wares. The first time we went, we bought paintings, carvings, artsy stuff. The next time, I set the hospitality theme with the first purchase of a hand painted tea cozy and tray cloth. Steven continued the theme with his purchases of a cutting board and salt & pepper grinders made from the wood of indigenous trees.

But back to me. People here still "serve" tea. They have beautiful tea sets with matching plates and tea cups. They take their time savoring their coffee or tea as they dunk their biscuits (cookies) or rusks and enjoy them to the fullest. Sarah uses a beautiful tea set left in her cupboard by the owner of the house they're letting (renting). My owner left a very utilitarian (by that, I mean ugly) insulated stainless pot, sugar & creamer. So I bought my own cheerfully round white teapot, sugar & creamer.

And when I saw the pretty pink roses painted on the tea cozy and tray cloth, I knew they would complement perfectly my tea set. Then, when I saw the pewter sugar spoon, spreading knife and olive fork – that was too perfect and completed the service. Until I saw the crocheted and beaded doily that you lay over top of your creamer to keep the flies out. That really was everything I needed. It's all quite lovely together.

I smile when I see the tea cozy because it brings to mind a long-ago Christmas in Pottstown, PA. It was 1982. Sarah was only a few months old and Steven had just gotten out of the Navy. We had a huge mortgage ($600/month) and a car payment on top of that, which is to say there wasn't much money for purchasing gifts. I decided to make gifts, which started the tradition of making Christmas decorations for the siblings. But that year, I had the perfect gift in mind for my Mama.

While I was still living at home, Mama would make us a pot of tea and we would sit and visit. Not just any old tea would do, it had to be Bigelow Constant Comment tea, a wonderful blend with orange and spice that smelled as wonderful as it tasted. It was a great memory, and I wanted to show Mama how special those times were for me. So I decided to make her a tea cozy.

For the uninformed, a tea cozy is an insulated blanket for your teapot, to keep the contents warm between pourings. I had the perfect plan – I bought two of the solid colored oval quilted placemats with a ruffle along the edge (think 1980s), folded them in half and sewed them together. Perfect! I was very pleased until Steven saw it and asked "Why did you make your mother a toaster cover?" I assured him that Mama would know it was a tea cozy, and then I hedged my bet by inserting a box of Constant Comment before I wrapped it.

Christmas morning came, and we were all happily exchanging gifts and expressing gratitude at how perfect each gift was when Mama opened her present. She pulled it out of the box and without hesitation said, "Well, thank you for the toaster cover!" Steven busted up laughing, fell off the hassock he was sitting on, rolled on the floor and all the while Mama is getting louder and louder, saying "Tea cozy! Tea cozy! I knew it was a tea cozy!"

Just typing the story has me laughing out loud.