It's great living in South Africa, and since we've moved here, we've done what we've done every other place we've moved to – Be Tourists! You can be sure I've Googled, gone to Trip Advisor, read Fodor's and every magazine article I can get my hands on before we even settle into the car to begin our adventure. Of course, the obligatory camera hangs around my neck.

Having been a Creative Memories scrapbooking consultant in a previous life, I totally understand how important it is to have pictures of your adventures. I also appreciate why people want to have their picture taken with identifiable backgrounds. That's why I never hesitate to walk up to people taking pictures of their family and ask if I can take a photo of them all together with their camera. And that's why my daughter Jennifer & I spent – seriously – thirty minutes taking pictures of people in Puerto Vallarta! People just kept handing us their cameras. Apparently, a cruise ship had just docked.

I also understand why some people DON'T want their picture taken under any circumstances. Can you say "self-conscious"? I see it in their eyes: "I'm too fat; My hair's a mess; I look awful in this outfit…." When my daughter Sarah used to duck out of photos I was taking I would remind her that one day she would be asking "Where was I when you guys were having so much fun?" The people who love us already know what we look like and their affection for us doesn't change when we don't look good in a photo.

By the way, I get just as irritated as everyone else at the people who always look good in photos. How do they do that?

I am saddened by the photo takers, though, when I can tell that they're so wrapped up in getting "the shot" that they don't truly experience the moment. People who walk up to the Lincoln Memorial having given their companion explicit instructions on the angle, the background, the lighting; have their picture taken; then walk back so their companion can have that same great shot. But neither of them took the time to comprehend the greatness of the man, the wisdom of his words, or the beauty of the monument. They're going to tell their friends they were there, but they can't honestly say they experienced it.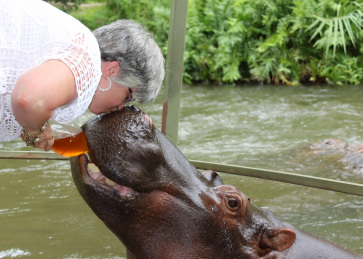 The same thing happened when we went to see Jessica the Hippo. In a nutshell, you've got a hippo that was raised by humans but lives in the Blyde River as a wild animal. She comes to a dock at her humans' home to be fed and she allows women to kiss her snout as she drinks sweetened rooibos tea. Can you imagine! You can touch – kiss, even – a wild animal. You can watch as her eyelids and nostrils open and close, feel the wiry bristles on her snout, feel her breath as she opens wide her mouth to receive the sliced sweet potatoes. I forgot all about photos while I was having this incredible experience!

But I saw people not even looking at the hippo, only looking at the camera, while they were feeding her. Firstly, do not stick your hand near a hippo's mouth without watching said hippo! Secondly, what are you going to tell your friends when they ask what her skin felt like, what color her tongue was, how big her tusks were?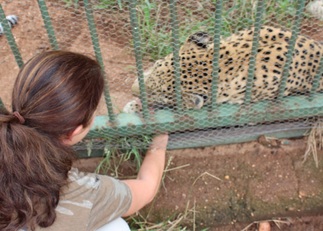 On the other hand, I saw a couple from Lincoln NE last week totally wrapped up in what they were experiencing in South Africa. They were in the moment. They looked into the leopard's eyes, and rubbed his fur, and listened to his purr. They weren't talking about the next place they were going, they were enjoying where they were NOW. They listened to the lions call and the birds chatter and the hippos snort. Truthfully, I was afraid they didn't even bring a camera – that would have made me sad! Then I realized that they did indeed have a camera and they were using it wisely; somehow, they had hit a wonderful balance of snapping a few pictures that would bring back the memory of their experience.

May we all do the same.