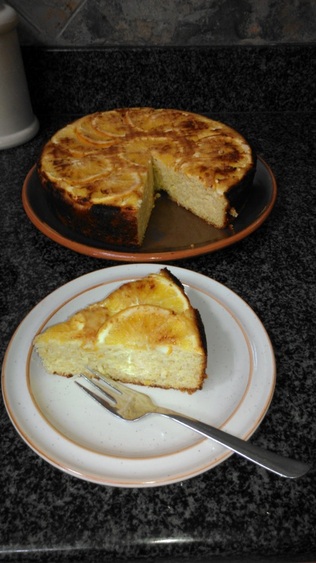 Slice of Orange & Almond Upside-Down Cake, anyone?
If you've come back to learn about my favorite room (the patio); sorry. I'm in the kitchen today.

Anyone who knows me understands that any cooking I do is BY THE RECIPE. Some people (my husband, my mother, my mother-in-law, my daughters….) cook by the "a little of this, a little of that" method. That doesn't work for me. So imagine me coming to South Africa, where they measure with the metric system AND ingredients are called by different names & grown in different seasons AND we're in a high altitude AND the oven registers in Celsius. What's a girl to do?

I decided to buy South African magazines! It's fall here, so the magazines feature recipes with seasonal ingredients. They list ingredients with grams. They tell you to preheat the oven to 170. They call ingredients by the right names, so when I have to ask for something in the grocery store people don't get a dazed look and start pointing at the farthest aisle, saying "Look over there."

Most people try to be helpful. The other day I was looking for cornstarch for my strawberry rhubarb crisp. I carefully searched every label in the baking aisle, even looking for something that offered itself as a thickener. Not a thing. So I tapped a lady on the shoulder and asked "If you were looking for a thickener for a strawberry rhubarb crisp, what would you use?" She looked puzzled, said "I have no idea. But my son's a chef and I'll ring him up." She called him, said some stuff in Afrikaans, then I understood "Ah, Maizena." Then she marched me over to the SAUCE aisle, where Maizena makes thickener for brown gravies, white gravies and plain CORNFLOUR. Steven squeezed a box and when the white dust flew out the top, he said, "It's cornstarch." Crisis averted.

FYI, when you come to South Africa, they call zucchini "marrow;" eggplant "aubergine" or "brinjal;" ground meat "mince;" roasted red peppers "paprika;" vanilla extract, "vanilla essence;" cookies "biscuits." Those are a few differences that come to mind right now. These are good things to know if you're trying to cook here.

I'd be lying if I said my favorite part of entertaining was anything but serving dessert. I like figuring out the menu, picking the music, setting the table – even making the food if it's for ladies; but I really like making & serving dessert.

Today I had my daughter Sarah and two other ladies who are from the US over for lunch. I loaded up a playlist with Mary Chapin Carpenter, Emmy Lou Harris, Kathy Mattea, Dixie Chicks…My menu consisted of Grilled Portobello Burgers with Basil Mayo (you'd never know it was Weight Watchers), crudité in a glass, chips, and iced tea (sweet or not). Sarah brought some delicious homemade buttermilk ranch dressing. And, of course, I served dessert and filtered coffee.

Just as a side note, I grilled the Portobello mushrooms and the buns myself. Steven helped me practice turning the grill on and off, and bringing it up to temperature last night. And today I DID IT! It's so satisfying to learn a new trick.

Back to dessert. There's a grocery store here called Pick 'N Pay. They put out a magazine called Fresh Living and it is chock full of recipes. I bought the May issue and was intrigued by a recipe for Orange and Almond Upside-Down Cake. In the description, it says "This dense, intensely orangey cake will become a favourite winter treat." That's when I decided to have some ladies over for lunch – I couldn't resist the description and couldn't take a chance that I might eat the whole cake by myself!

It does have a very interesting flavor. I've noticed that sweets aren't as…sweet…here, and this cake follows that pattern. It is indeed dense and orangey and almondey. It has no flour. It bakes for 70 minutes. I'm not going to keep you in suspense any longer; I'm going to share both recipes with you. Fair is fair; friends in the US will totally get the Portobello burger recipe and will have to puzzle over the cake recipe. I had to do the opposite. Enjoy! Let me know if you try the recipes and what you think.
Orange & Almond Upside Down Cake

3 small oranges, washed

5 PnP jumbo eggs

1 cup (220g) castor sugar

3 packets (300g) ground almonds

1 ½ tsp (8ml) baking powder

½ tsp (3ml) almond essence

Makes a 20cm cake

Line the base and sides of a 20 cm springform cake tin with baking paper and grease with cooking spray. Place oranges into a saucepan, cover with water and bring to the boil. Cover with a lid and simmer over a medium heat for an hour or until soft. Remove from water and set aside to cool. Preheat oven to 160®C. Thinly slice 1 uncooked orange. Arrange raw orange slices over base of cake tin and set aside. Cut thick pithy ends off cooked oranges and remove any seeds, then blend into a smooth puree and place in a large bowl. Add remaining ingredients and mix until well combined. Pour batter into cake tin over orange slices and back for 1 – 1 ½ hours or until cooked through. Cool in tin before turning out onto a plate.

If you're interested in some other Pick 'N Pay recipes, go to

www.picknpay.co.za

(that's dot c-o dot zed-a)

Grilled Portobello Burger with Basil Mayo

6 ppv; serves 4

¼ c basil, fresh, chopped

3 tbsp reduced-calorie mayonnaise

1 tsp apple cider vinegar

4 medium Portobello mushroom caps (@ 1 lb)

4 sprays olive oil cooking spray

1/8 tsp table salt, or to taste

1/8 tsp black pepper, or to taste

4 items mixed-grain hamburger rolls

¾ cup roasted red peppers (packed in water), about 4 pieces

4 slices uncooked red onion

4 pieces lettuce

Heat grill or grill pan. In a small bowl combine basil, mayonnaise and vinegar; set aside. Lightly coat both sides of mushroom caps with cooking spray; season with salt & pepper. Grill mushrooms over medium-high heat, until just soft to the touch, a few minutes per side. To serve, split rolls and toast on grill. Spread a heaping teaspoon of basil mixture on top and bottom halves of rolls. Layer each bottom half with one lettuce leaf red pepper, mushroom and onion slice; top with remaining half of roll and serve.

It's worth joining Weight Watchers just to get recipes this good!

www.weightwatchers.com