As soon as you get to South Africa, you're bombarded with the concept of the "Big 5." These animals are on the paper currency, they're on every kind of souvenir you can imagine – postcards, playing cards, puzzles, tee shirts, even ostrich eggs. So far, nothing on black velvet, but there's still places I haven't been!
Apparently, since the beginning of time, people have been on the hunt for these animals. And at some point, big game hunters (the guys with the funny hats carrying a blunderbuss) or their guides coined the phrase "Big 5." You might think this refers to the size of the animals in question, but no, the distinction comes from the fact that these five animals are the most dangerous and difficult to hunt on foot. As time went on, it became a very successful marketing phrase.
A fun and informative website regarding the Big 5 is:
big5.southafrica.net
A few people still shoot guns to kill the lion, the rhino, the leopard, the cape buffalo and the elephant for trophies. It's legal to hunt these animals, and many others, on almost 9000 game ranches and in some provincial game reserves in South Africa. Most people shoot with their cameras, though, and usually nobody gets hurt. However, I wouldn't be surprised to learn that someone fell out of a game drive vehicle and broke some bone trying to get the perfect shot.
I'm pleased to say that over the course of a year, Steven and I have got our trophy pictures of the Big 5. Some we found on our own, just driving around. Some our rangers pointed out in the wild on a game drive. And in the interest of being completely transparent, some are in big pens, even though the photos don't show it.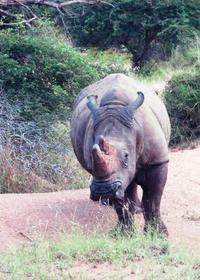 Rhino was the first we saw on our own. There are two types of rhino, white and black. It seems that back in the day, people noticed the wide mouth on one rhino and that word "wide" became muddled into "white." The black is just different than the white. Rangers have shared a way to tell which is which if you see a rhino with its baby: It's a black rhino if the baby rhino follows the mother, remembering that black mothers carry their babies on their back. It's a white rhino if the baby is in front of the mother, remembering that white mothers push their babies in carriages in front of them. They told us other stuff, about how one of them can't lift its head high, and how wide the mouths are, but the mother/baby story is the one that I remember. I would be remiss (& she'd probably yell at me) if I failed to report that when my daughter Sarah was on a game drive at Kruger, she got to be part of a team that tranquilized a rhino so it could be transported. She often brags that she's touched a rhino.

The elephant was second. We were on a game drive near Pilannesberg and Steven had been pestering our ranger all day to find an elephant. Steven was regaling the South Africans in the vehicle with riddles about elephants (How does an elephant hide in a cherry tree? Paints his toenails red) and other such silliness. The sun was going down, and we wanted a really good sunset shot. The driver obliged by turning around and – there was a fantastic elephant! He was about 13 years old, sent away from his herd because he was becoming a threat to the main male. He just ambled up to a tree next to the vehicle! Some people were quite nervous at the close proximity, but Steven just kept snapping photos, barely able to contain his jubilation.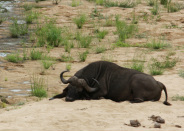 Our third sighting occurred as we entered Kruger National Park. Driving across a bridge, Steven spied a Cape Buffalo. It was a fine looking specimen with a beautiful boss (that's what it's called when the horns grow together across the top of the male's head). We also saw several buffalo in the water on our most recent safari at Tshukudu Game Reserve. There were females with little horns, babies with nubby horns, and young males who hadn't grown their boss yet.

Also at Tshukudu we were introduced to leopards (#4) and a lion (thus concluding the Big 5). They were behind a fence. Not like a zoo, mind you, they had lots of room to wander. But these are nocturnal animals, and it's difficult to spot them in the wild. We've heard them, we've seen their kill up in a tree; but we'd never seen one. Our ranger told us the leopards had been taken into someone's home as babies, but when the owners realized they were still wild animals, they had to be put in a safe place. Once a wild animal becomes comfortable around humans, it's doubly dangerous, because they don't bother to turn tail and go in the other direction as they normally would; and they may associate humans with food (and get irritated if they don't get any!). The lion is very old, about 24 years, I think. He was part of the breeding project when the game reserve began.

There are so many beautiful animals here in the wilds of South Africa – don't tell anyone, but I like giraffes better than the Big 5! Just because we've gotten great shots of the obligatory animals doesn't mean we're going to quit taking pictures. As a matter of fact, I'm developing a new obsession: the little 5. Really! There's the elephant shrew; the buffalo weaver bird (we've seen their big sloppy nests); the rhino beetle; the leopard tortoise (we saw a dead one on a game walk); and the antlion. Stay tuned!