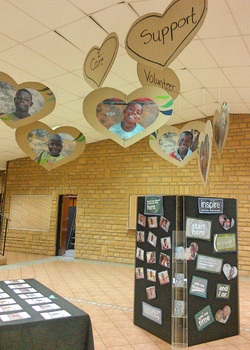 In September of 2013, Inspire, the missions leg of New Life Church in Witbank, launched a program called Sponsor a Child. Members of the church were encouraged to participate by sponsoring a child for R500 ($50) per month; by shopping for food and other items for the children; by distributing the food; or by praying for the children. Steven and I signed on to be part of the team, so please realize when I say "we" I'm talking about the whole group of people involved in this ministry.

We started with less than 20 children, and at the end of the launch, there were more sponsors than there were children. As many as would sponsor were accepted, because there is no shortage of needy children in our neighborhood. We've been serving 32 children since November, boys and girls between the ages of 2 and 19; and we're prepared to take on another eight this month.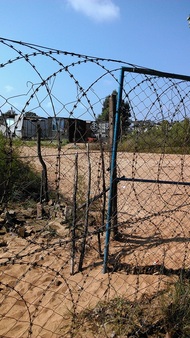 The children are orphans, many living in an informal settlement (shanty towns) with their ugogo (grandmother). The majority of children were suggested by Emelda Lombe, who runs Blessings, a crèche (nursery school) near the informal settlement. She knows their situation because the women come through the fence and share their sad tales. The head of the ministry heard of another woman caring for 9 orphans in her RDP (Rural Development Project) house in Ackerville, and we also deliver to them.

Emelda gathered all the info on the children for us – their birthdays and their clothing sizes. One day as she was gathering information, she went to a home in the early afternoon and knocked on the door. Everything was locked up. Knowing there were people inside, Emelda kept knocking. Finally the grandmother answered and Emelda asked why everything was closed up. The lady explained that they had no food, so she and the children went to bed. No food. Inspire rushed the first shopping and delivery dates to get some nourishment to the children.

I'm part of the shopping crew. Once a month we go to Witbank
Cash n Carry, which is a grocery supplier to some small markets in town. We spend R400 per child, and shop the sales, which means the brands of food may change, but the list stays pretty consistent:

20 kilograms (44 pounds) of mealie meal (cornmeal); 500g of dried beans; 1K instant porridge; 500m salt; 2K rice; 750ml cooking oil; 400g peanut butter; 450g mixed fruit jam; 500g pasta; 4 200g boxes of soya mince (soy crumbles) with gravy; 4 envelopes of soup mix (think Lipton Onion Soup); 4 400g tins of vegetables; 1K sugar; 1 dozen eggs; 2 loaves of bread; 2L of long life full cream milk. When prices are low enough they get 155g tins of pilchards in tomato sauce and 300g tins of corned meat. In addition to food, we also provide a toothbrush, a tube of toothpaste, a facecloth, a bar of soap, and four rolls of toilet paper.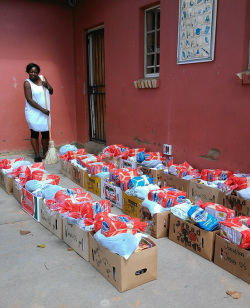 These provisions have to last a month in a home without electricity or running water. We really try to get the kids protein and items that will keep their bellies full. Hopefully, the families are able to purchase a few fresh items themselves. Every time I go into Cash n Carry, I tell anyone listening who we're buying this stuff for. The manager got wind of it and now we get a 1.5% discount, which saves us more than R300 each trip. God bless them.

We get the bread at Spar Supermarket, 64 loaves for R8,29 (82 cents) each. They also provide us with apple boxes to pack the supplies for delivery. God bless them, too.

Each month we spend the other R100 on clothing or other necessities. In March, we bought everyone a Dri-Mac. Well, Dri-Mac is a name brand like Dickies, and we bought the clothes at Pep stores and Ackermans, so I guess we bought them black windbreakers. In the past we've bought shirts and pants, underwear, backpacks, and school supplies. Clothes are more expensive for the teenagers, but we try to get all the kids close to the same thing.
When we're packing the boxes, we write "God loves ______" on the outside of the box. One, we want the kids to know that every good gift comes from God; and two, the clothing is child-specific. We also insert a poster with a picture and a Bible verse on it, and the name and contact info for the church. It's our hope that the kids and their caretakers will begin to understand that God will take care of them, and they will begin to trust him with their lives on this earth and beyond.